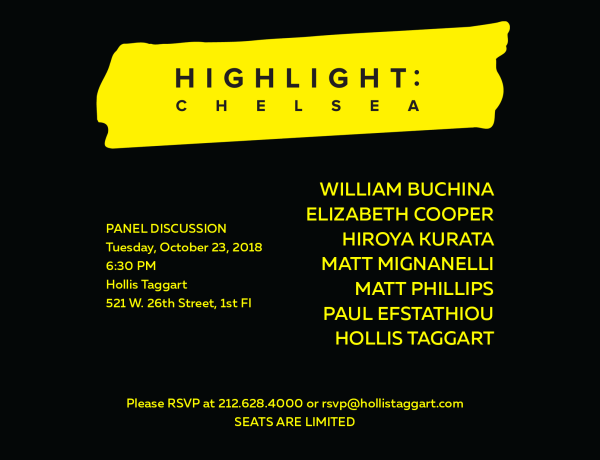 October 23, 2018
Please join Hollis Taggart for a panel discussion with contemporary artists William Buchina, Elizabeth Cooper, Hiroya Kurata, Matt Mignanelli, and Matt Phillips, developed in conjunction with the gallery's current exhibition Highlight: Chelsea. Moderated by exhibition curator Paul Efstathiou and gallery founder Hollis Taggart, the discussion will explore the development of each artist's practice and the formal and conceptual inquiries that guide their work.
Tuesday, October 23, 2018
6:30 PM
Hollis Taggart
521 W. 26th Street, 1st Fl
The panel discussion will be followed by a reception at the gallery, providing additional opportunity to engage with the artists, curator, and gallery leadership one-on-one. The event is part of Hollis Taggart's expansion of its contemporary program, in line with its vision to provide a platform for emerging and under-recognized artists. Additional information about the participating artists and Highlight: Chelsea follow below.
If you plan to attend, please RSVP at 
212.628.4000 or rsvp@hollistaggart.com. 
SEATS ARE LIMITED